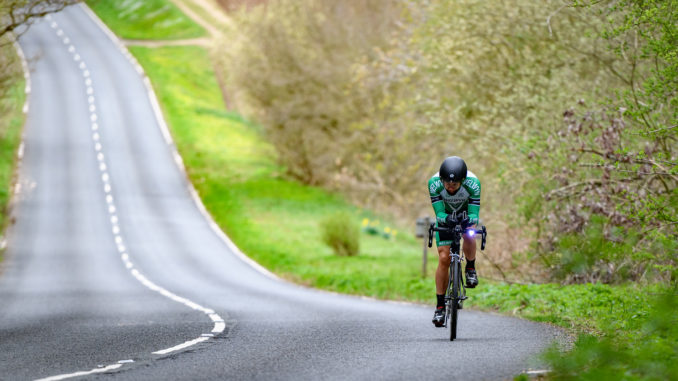 Welwyn Wheelers were pleased to stage their annual Hilly 50km Time Trial on the traditional date of Good Friday, 2 April, after easing of COVID-19 restrictions earlier in the week. Weather was chilly but thankfully dry, as the continued need for distancing meant no indoor facilities could be provided. We are indebted to Spoke CyclesCC of Rabley Heath Rd, who stepped in after our usual HQ of the John Clement Commnity Centre was unavailable. SpokeCC not only provided their premises but have made a generous contribution allowing an enhanced prize fund – see below.
The appetite for racing after the long lockdown meant we were oversubscribed, but most reserves got a ride, and 113 times were recorded. Many chose to compete on road bikes, on the technical and hilly course. But the dry roads were perfectly rideable on TT/Lo-Pro machines, helped by a patchwork of new re-surfacing on many sections (some completed the evening before the event!). Nearly 40 volunteers were involved, big thanks to Andy Porter (organiser) and all the marshals and timekeepers.
Fastest on the day had a familiar feel with both Ashley Cox (Team Bottrill) and Lucy Charles (Hoddesdon Tri Club) repeating their winning performances from the last running of the event, in 2019. Ashley Cox this year recorded an awesome 1:08:38, a minute faster than 2019 and full minute in front of Sebastian Garry (Nopinz Motip Race Team), 1:09:48. Ollie Hucks (Nopinz Motip Race Team) was third in 1:10:59. Lucy Charles was a shade off her 2019 performance but still a solid 3min in front of second-placed Connie Hayes (Liv AWOL, 1:24:38), with local rider Elspeth Grace (Cambridge University CC) third with 1:25:41.
Track League regular, Joel Stewart (Team Ohten Aveas), and Karine Jones (Verulam Really Moving) took the Vets prizes with times of 1:13:30 and 1:31:11, respectively. Fastest Juniors were both from the Youth Academy of the promoting club, with Ella Coleman (Liv AWOL) also 4th fastest on the day in 1:30:54. Euan Woodliffe was seventh overall on the day, with his time of 1:14:10 not only taking the Junior prize but also shaving 4 seconds off the Junior course record, set in 2018 by Ollie Stockwell.
Prize Winners
| | | | | | | |
| --- | --- | --- | --- | --- | --- | --- |
| firstname | lastname | club | | | Time | Prize |
| Lucy | Charles | Hoddesdon Tri Club | Female | 1st Senior | 01:21:31 | £60 |
| Connie | Hayes | Liv AWOL | Female | 2nd Senior | 01:24:38 | £50 |
| Elspeth | Grace | Cambridge University CC | Female | 3rd Senior | 01:25:41 | £40 |
| Ella | Coleman | Liv AWOL | Female | 1st Junior | 01:30:54 | £30 |
| Karine | Jones | Verulam Really Moving | Female | 1st Veteran | 01:31:11 | £30 |
| Jojo | Stephens-Smith | Hitchin Nomads CC | Female | (4th) Senior | 01:39:46 | £30 |
| Lucy | Neatham | Finsbury Park CC | Female | (5th) Senior | 01:39:51 | £20 |
| Charlotte | McLaughlin | TMG Horizon Cycling Team | Female | (6th) Senior | 01:41:01 | £10 |
| | | | | | | |
| Ashley | Cox | Team Bottrill | Male | 1st Senior | 01:08:38 | £60 |
| Sebastian | Garry | Nopinz Motip Race Team | Male | 2nd Senior | 01:09:48 | £50 |
| Ollie | Hucks | Nopinz Motip Race Team | Male | 3rd Senior | 01:10:59 | £40 |
| Joel | Stewart | Team Ohten Aveas | Male | 1st Vet | 01:13:30 | £30 |
| Adam | Robertson | University of Bath CC | Male | (4th Senior) | 01:13:33 | £30 |
| Nicholas | Candy | Finchley RT | Male | (5th Senior) | 01:13:36 | £20 |
| Sam | Hucks | High Wycombe CC | Male | (6th Senior) | 01:13:59 | £10 |
| Euan | Woodliffe | Welwyn Whs | Male | 1st Junior | 01:14:10 | £30 |