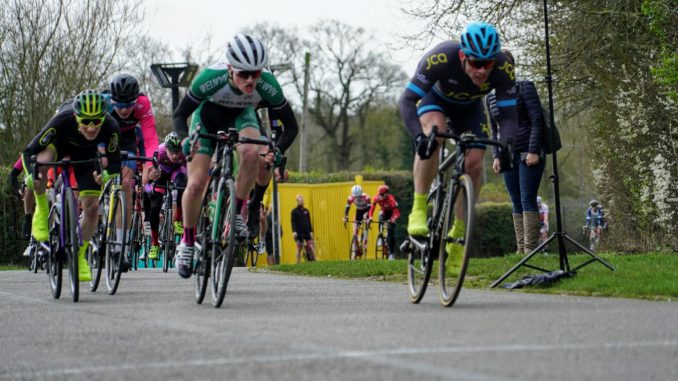 Plenty of Welwyn Wheelers weekend racing happened this weekend – in many flavours. This season's HSBC National MTB XC Series kicked-off on Saturday at Sherwood Pines near Mansfield where Louis Sutton and Mark Lightfoot had their best National MTB results to date.

Nathan Hardy won the East London Youth Circuit Series Youth A boys race after breaking away with another rider halfway through the race, before heading up to Manchester to compete in the supporting Youth Talent competition at the 6 day race that evening. The Storti brothers also had a double-dose of racing competing at Lee Valley and MK Bowl on the same day, with young Elijah picking up 4th in both his races. Elise Whitaker picked up an excellent 2nd place in the mixed U12 field.

Earlier on that day Archie Peet came 2nd in the bunch gallop to finish 3rd in the MK Bowl March Circuit Series Cat 3/4 race. Rebecca Maynard was also spotted by our Internet results trawling – racing at Salt Ayre.

A group of 4 youth track riders travelled to the Newport velodrome on Saturday to compete in round 3 of the Ice Breaker – renowned for its tough racing.

Finally a healthy group of senior Welwyn time trialists had a good turn-out at the Hemel Hempstead Hilly course that featured Bison Hill and Ivinghoe Beacon
HSBC National MTB XC Series Round 1
Junior
14 Louis Sutton

Youth
15 Joe Kieley (mechanicals!)

Juvenile
5 Mark Lightfoot
MK Bowl March Circuit Series #4

Cat 3/4
3 Archie

CC Hackney – East London Youth Circuit Series #1
U16 boys
1 Nathan Hardy
7 Caelan Miller
11 Immanuel Ndungu
DNF Toby Brown (crash – wish you a speedy recovery!)

U14boys
8 Ethan Storti
11 Sam Quiggin
U10
4 Elijah Storti
MK Bowl March Youth Series 3
U16 Boys
14 George Gould

U14 Boys
5 Ethan Storti
16 Sam Quiggin

U12
2 Elise Whitaker

U10
4 Elijah Storti

Lancaster University Spring Crit #4 (2/3/4 Women)
16 Rebecca Maynard
Icebreaker Youth Series Round 3 2019
Youth A Omnium Male
9 Euan Woodliffe
Youth A Omnium Female
11 Iona Moir
Youth B Omnium Male
11 Calum Moir

Youth C Omnium Male
10 Rupert Cavill
Time Trials

Hemel Hempstead Hilly F11/22
49 Alex Peeke
58 David Scott
65 Laurence Davis
77 Howard Ashmore
ECCA 10 (E2/10)
70 Chris Bodell
107 Andrew Porter