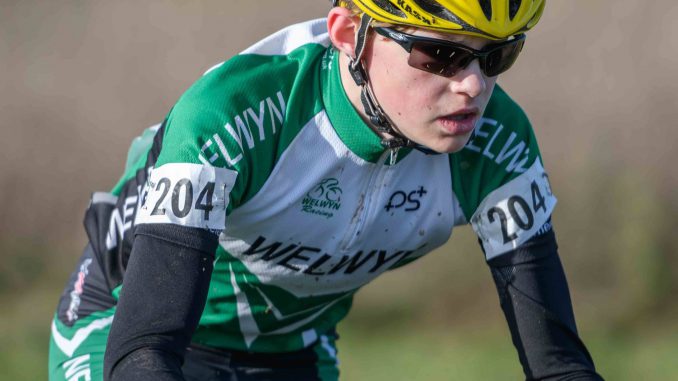 The final round of the Central League Cyclo-cross series was held at Hillingdon on Sunday and the Wheelers youth riders finished the season with three victories. Iona Moir is having a good January and won the under 16 girls race with Sasha Blendis in second place, Calum Moir won the under 14 boys race.
Fin Woodliffe and Rupert Cavill produced yet another winning duo in the under 12 category with Henry Landon in 4th place and Elise Whittaker third placed girl. Toby Brown was 6th in the under 16 boys event and John Cavill scored his best results of the season with 16th place in the 40+ race.
The Eastern League series was completed at Milton near Cambridge, also on Sunday. Dylan Starkey finished 27th (4th under 14) in the youth race while Daniel Elliot was 10th in the under 10 event. In the overall Eastern League results Fin Woodliffe won the under 12 Trophy and the Wheelers took third place in the season long Team Prize behind Lee Valley and Colchester Rovers.
The two Cyclo-cross Leagues have provided excellent events all season and seen growing numbers of Wheelers competing. We look forward to the next series, starting in September.
Nathan Hardy has already switched his attention to the overlapping road season and picked up a nice win at Saturday's Hillingdon Youth Winter Series. Winning also meant that Nathan avoided a nasty crash behind him at the finish line.
Finally, our reporters also spotted Andrew Knott in the Masters race at the Lee Valley Winter Circuit Series, finishing with the bunch in 18th place.
Central CX League Rd 15
VET 40
16 John Cavill Welwyn Wheelers CC Vet Male 40-49
40 Neil Grigson Welwyn Wheelers CC Vet Male 40-49
Under 16 Girls
1 Iona Moir Welwyn Wheelers CC U16 Girls
2 Sasha Blendis Welwyn Wheelers CC U16 Girls
Under 16 Boys
6 Toby Brown Welwyn Wheelers CC U16 Boys
9 George Dalgarno Welwyn Wheelers CC U16 Boys
Under 14 Boys
1 Calum Moir Welwyn Wheelers CC U14 Boys
Under 12
1 Finlay Woodliffe Welwyn Wheelers CC U12 Boys
2 Rupert Cavill Welwyn Wheelers CC U12 Boys
4 Henry Landon Welwyn Wheelers CC U12 Boys
10 Elise Whitaker Welwyn Wheelers CC U12 Girls
Eastern League Rd 16
Senior/Junior
14/5 Adam Lightfoot Welwyn Wheelers CC
54 Joshua Maynard Welwyn Wheelers CC
Women
2 Elspeth Grace Welwyn Wheelers CC
Youth/U14
27/9 Dylan Starkey Welwyn Wheelers CC
U10
10 Daniel Elliott0 Welwyn Wheelers CC
Hillingdon Youth Winter Series 4
U16 Boys
1 Nathan Hardy Welwyn Wheelers CC
17 Immanuel Ndungu Welwyn Wheelers CC
U14 Boys
8 Samuel Quiggin Welwyn Wheelers CC
U12 Boys
2 Leon Atkins Welwyn Wheelers CC
Hillingdon Full Gas Winter Series
2/3/4
15 Bob Mcabe Welwyn Wheelers CC
Lee Valley Winter Circuit Series 2018-2019 #13
Masters 40+
18 Andrew Knott Welwyn Wheelers CC