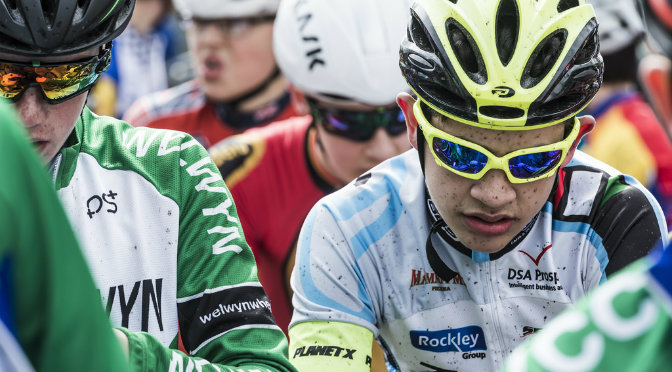 A number of the Welwyn Wheelers youth riders travelled north to Hetton in Yorkshire for round 1 of the National Youth Circuit race events. There were large fields in all of the various age-based categories and the programme of events was delayed due to a variety of reasons.
The under 16 Boys event was run at a fast and furious pace and a small group of riders escaped in the final lap from the main bunch and avoided a massive crash in the final lap . Will Raymond finished in an excellent 7th position in a strong field.
The under 16 girls race contained four Wheelers – the race finished with a mass sprint for the bunch with Josie Griffin, Millie Gage and Elspeth Grace in the middle of the pack. Lauren Higham lost contact and was a lap down.
In the under 14 boys race Olie Stockwell was brought down by another rider in the neutralised zone and suffered minor injuries and was unable to participate in the event.
The first race of the day was the under 14 girls where Imogen Chastell was 10th she rode strongly in the main bunch in a 45km race, securing a fine top ten finish in a large field.
Also on Saturday Joe Kiely rode in the mud Sweat and Gears Mountain bike race in Essex. The under 16 and 14 riders started together – Joe was 4th overall and also won the under 14 category by five minutes with a great ride
On Saturday a large number of the Wheelers youth riders will be competing in the first round of the Omnium series at the Olympic track at Stratford.
Peter