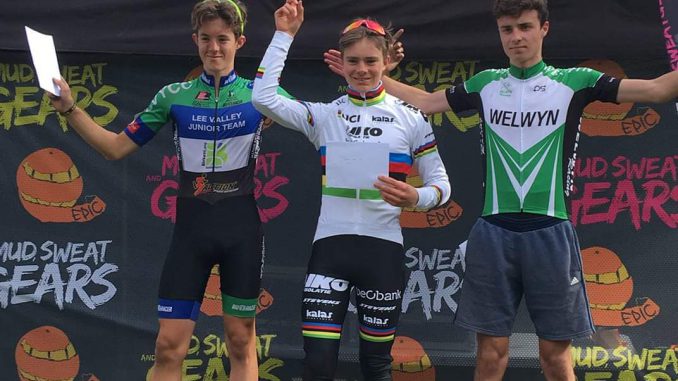 Cycle racing was a mix of road and cyclocross this weekend, with some of our National Road Series youth riders travelling across to Pembrey in Wales for the penultimate race of the series. In the U14 38km race, after a series of closely marked breaks it came to a final sprint for the line. Euan Woodliffe had the usual battle with his main rival Ben Partridge and missed out on 1st place by less than a bike length. He secured a great 2nd place with team mate Nathan Hardy finishing in a fantastic 5th and Calum Moir 24th. In the U16s girls race Iona Moir achieved a great top placing with 9th position and in the U16 boys Archie Peet finished in a respectable 15th spot, with Rizwan Hameed also finishing in the main bunch in a field of 80 plus of the country's best riders.
Last weekend also saw the opening race of the much missed cyclocross season, a discipline that the Welwyn Wheelers love and excel in. The 1st Eastern League race was at Langdon Hills and many of the Wheelers travelled across to get their fix. The course was dry, bumpy, windy and technical.
The first race was the U10s and Daniel Norfolk who has just moved up to this category set himself the objective of finishing in the top 10, he finished 4th so the podium is in his sights, he was closely followed by team mate Elijah Storti in 5th place. Next was the U12 race, they set off at quiet a pace and soon a small group of 5 were leading the bunch, Rupert Cavill and Fin Woodliffe of Welwyn Wheelers were looking comfortable in the bunch. They worked well together and slowly pushed up the pace to leave the last lap to be a club race between the great friends off and on the bike, it came down to a final sprint and Rupert Cavill took the first U12 win of the season with Fin a close 2nd. Megan Hughes also competed in the U12 and came 5th out of the girls after some tenacious and committed riding from the youngster.
In the Youth category Tom Sharples took 3rd place in the U16s category after losing the wheel of his main rival in the woody section. Ellen Bennett kept pushing the pace and used her power on the hills to take the win – albeit she finished with her bike over her shoulder running to the finish with a mechanical – she was 1 lap further ahead than her closest competitors. Mark Lightfoot took 2nd place in the U14 category which is a great result. Later in the day the fans were treated to watching the World champion Ben Tullett compete in the Junior category and new Welwyn Wheeler Adam Lightfoot got to share the podium with a world champ and took a fantastic 3rd place. In the Women Elspeth Grace took 2nd place in her firstrace of the season.