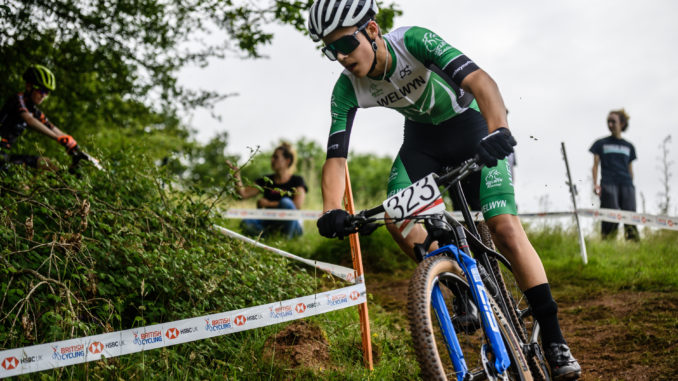 Leon Atkins achieved his first U14 National XC Series podium this weekend with Calum Moir and Mark Lightfoot achieving top ten places on the road in the latest round of the National Youth Series.
The 2nd round of the HSBC UK National Cross Country Series Series was held under overcast skies at Sunnybank Farm, Monmouth. A freshly cut course featuring tough grassy climbs and treacherously slippy clay descents left riders guessing on race conditions.
By the time the Under 14s Youth category kicked off at 16.45 conditions were getting faster. Leon Atkins and Fin Woodliffe had been unable to compete in the first round and so were gridded on the 3rd row with a very tight start. Leon managed to get to the front with the race leaders at the end of lap one, with Fin in the Top 20. Leon battled with Innes McDonald over the remaining two laps but a small mistake on the last lap enabled Innes to pull away for the win, with Leon a close 2nd and the first round winner Max Standen in 3rd. Fin managed to move up to 16th by the finish – a great effort after little time for preparation having to deal with a shoulder injury.
At the Scarborough Cycling Festival riders had to battle the fearsome climb of the Olivers Mount circuit 9 times in a final chance to prepare for the National Youth Circuit Race Championships to be held this Saturday at Hog Hill. In the U16 boys category Calum and Mark finished in 8th and 9th places respectively with Robin Steer in 64th place. Ellen Phillips finished 38th in the U16 girls race.
Finally we are pleased to report that Harry Hayter raced in the Plomesgate CC Grass Track meeting on Saturday in Woodbridge Suffolk, achieving first place in the U10 omnium.