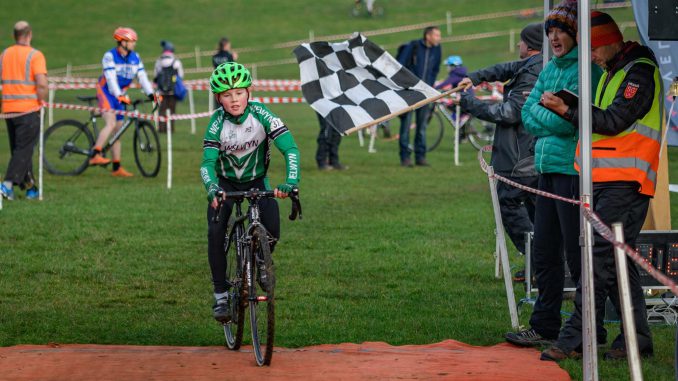 The majority of the clubs cyclo-cross riders were at Milton Keynes bowl on Saturday for the Central League race which also included the Wheelers CX championships. This meant that the top WW riders in each of the age group events would be presented with a Trophy at the prize giving in February 2019.
Xavier Knott took fourth place in the under 10 race followed in by Elijah Storti 4th and Daniell Elliot 7th, Elice Whittaker second and Megan Hughes 5th in the under 12 girls category.
Another 1,2 for Finn Woodliffe and Rupert Cavill in the Under 12 event with Dillon Knott 9th after recovering from a mechanical problem.
In the under 14 event – Mille Coleman had decisive win with an excellent ride, Calum Moir 3rd in the boys race with Ethan Storti 12, William Pollard 16 and Tom Dixon 17th.
Toby Brown 10th in the under 16 boys event while Iona Moir won the girls race with Ella Coleman third and Sasha Blendis 5th.
In the Senior categories John Cavill 36th, Alex Peeke 39 and Ton Hinchliife 43rd in the 120+ rider field in the  40+ race. Archie Peet was a DNF in the Junior race (after mechanicals with both bikes!) while Garry Blackmore finished 73rd in the large entry in the 50+ event
The following day a few Wheelers were at Colchester for the Eastern League event – Finn Woodliffe won the under 12 event while Joe Kiely and Euan Woodliffe were first and third in the Youth race with Nathan Hardy 7th and Mark Lightfoot 8th. Daniell Elliot 6th under 10.
A number of club riders who were in the BC youth squad were on duty on Saturday at various venues so were unable to compete in the club CX Championship – good news for Toby Brown who was the leading club rider in the Under 16 race at MK to win his first club trophy.
Also on Saturday the club hosted Round 2 of  the 'Muddy Monsters CX event for novice riders at GSP – 51 riders had a good 3 event series in the under 8/10/12 age bands. With most parental helpers at MK the MM event was short of helpers but thanks to the massive efforts of Francis and Richard and a few others the riders had a good taste of CX racing. Care must be taken next season to avoid such date clashes.