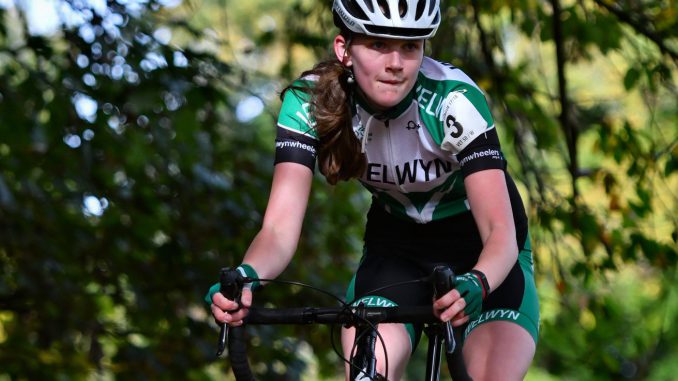 The Wheelers cyclo-cross riders were out in force at the weekend at the Central League Round 4 at Milton Keynes on Saturday on a wet and slippery course and the Eastern League event run by CC Ashwell at Pirton on Sunday. A number of the top cyclo–cross riders were at Derby on Sunday for Round 1 of the BC National Series.
Alastair and Josephine Davis again started proceedings, enjoying the U8/U10 races, this time accompanied by Xavier Knott who rode a strong race, narrowly missing a podium spot in the under 10 boys.
The under 12 race at MK resulted in the Wheelers riders filling the top  4 places – Rupert Cavill won followed home by Fin Woodliffe, Dillon Knott and Henry Landon – Elice Whittaker was 10th and second placed girl. The under 14 boys race at MK saw Calum Moir take a well earned 2nd place with William Pollard, Thomas Dixon, and Jeremy Landon finishing close together mid-way through the field. Calum's sister Iona won the Under 16 girls race with Ella Coleman third. Millie Coleman won the under 14 girls event. George Dalgarno was the sole Wheeler in the U16 boys race finishing just outside the top 10.
Later on Alex Peeke and Chris Murphy entertained the crowd with respectable places in their individual vets races.
On Sunday the weather was fine and sunny for the CC Ashwell race. Daniel Elliott's form continues to progress and he finished 3rd in the U10 boys race, just 51 seconds off the lead, Elijah Storti following up in 7th.
Rupert Cavill and Fin Woodliffe attacked from the start of the under 12 race and opened up a good lead as they rode at high speed round the course with a bike length between them for 5 laps – a sprint finish was expected but unfortunately Fin unshipped his chain on the final lap and ran the last 200m to the finish to take 4th place after Rupert Cavill had won the race. Jacob Lowin came 29th and Megan Hughes finished 6th out of the U12 girls.
Caelen Miller was 6th in the Youth race continuing his return to form after injury – in the same race Ethan Storti picked up 3rd out of U14 boys.
Simon Cragg and Matt Davey gave good representation in the senior race with 20th and 36th places respectively. Richard Blaxland landed 34th in the V40+ age race with Holly Blaxland 26th and third junior in the Womens race.
This Sunday the Wheelers will be running Round 4 of the Eastern League series at Stanborough Park, WGC – first race at 10am – a strong field of riders in the various age based races will be there and we look forward to seeing a huge turnout of Wheelers both racing and supporting.