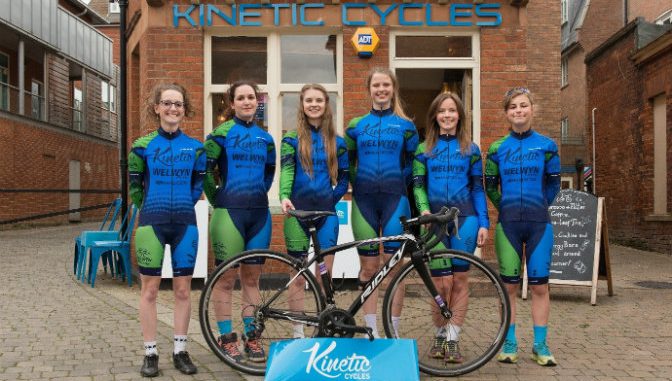 Welwyn Wheelers are pleased to announce two exciting projects to support both our increasing number of women racers and also our talented young riders.
Kinetic Welwyn Racing – Women's Cycle Race Team
Welwyn Wheelers and Kinetic Cycles have joined forces to form Kinetic Welwyn Racing; a women's cycle race team for riders based in the Eastern region. Thursday 19th May 2016 saw the official launch of the team. The team of eight riders (comprising six riders already members of Welwyn Wheelers) will target both Regional and National level road races in 2016. The team will look to develop its roster from riders within the club and take the best of developing riders within the region.
Welwyn Wheelers Cycling Club will provide team management by Richard Maynard, training facilities and ongoing coaching support (including access to performance testing, nutrition advice and physiotherapy services). The Club has also provided an initial level of funding to establish the team. Kinetic Cycles and Madison has provided bikes and equipment and will provide ongoing maintenance support. ERREA Sport S.p.A. will provide team leisure clothing.
The team has been developed to progress the riding career of promising riders whilst maintaining close contact with the club. The riders (who will also remain members of Welwyn Wheelers) will also continue to support and volunteer at club events and support our other up-coming female riders. Speaking at the team launch Richard Maynard (Team Manager) explained:
"Our ambition in setting up Kinetic Welwyn Racing was to provide a natural progression for our U18 women to step up into senior women's road racing. With no women's junior series in the UK, and races open to a wide spread of abilities, the majority of women's racing appears to primarily favour trade based teams. The establishment of the team will keep local riders riding together in a team environment, whilst maintaining their link and involvement with the Club. Our vision is to have a rolling progression of developing female riders joining the team each year, whilst being supported and mentored by more experienced team riders."
For 2016 Kinetic Welwyn Racing riders are Kathryn Anderson, Anna Carter, Elanor Cadzow, Gaia Casciello, Sophia Chastell, Rebecca Maynard, Annabel Sill and Rachel Heptonstall. You can follow their progress on twitter: @kineticwelwynRT
For more details about joining the team in 2017 and sponsorship opportunities please contact Richard Maynard at: kineticwelwynracing@gmail.com
Welwyn Wheelers U18 Racing Academy
As part of the progression of our youth riders into the junior and senior ranks the club is reinvigorating its Welwyn Racing Academy. This will develop the club's riders from Youth A (Under 16) through the junior (Under 18) ranks to senior racing. Those riders who have been accepted into British Cycling's Regional School of Racing ('RSR') process and have ridden in at least two RSR's will be considered for acceptance onto the Welwyn Racing Academy.
The details of the current roster are:
Junior riders – funded by Accuro, who have again agreed to part-fund this age group – currently four male riders
Youth U16/U14 –funded by Welwyn Wheelers – currently expected to be five male and five female riders.
Acceptance onto the Academy benefits the riders by access to in depth coaching and management advice, introduction to team tactics and advanced road racing skills, access to preferential rates on physio and nutrition advice.
To further engender a greater team and club spirit, funding will be spent on casual Welwyn Racing apparel for use both before and after racing and podium photos and assistance with nutrition and national championship/level race entries.
Welwyn Racing
The 'Welwyn Racing' headline is seen by the coaching staff of the club as a banner under which our Academy and Team members, as well high achieving younger racers, are grouped to enable further coaching and development