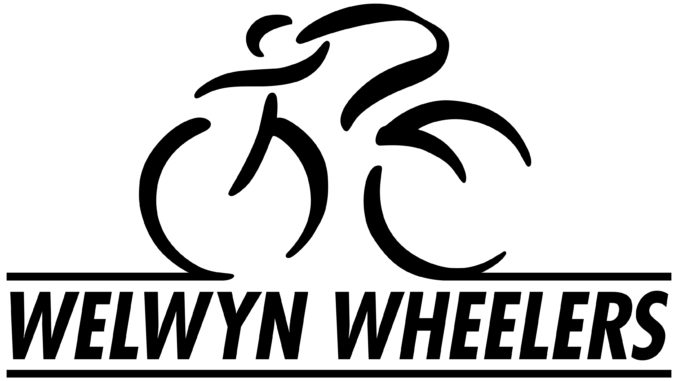 The Senior/Junior/Vets and Under 16 Club Track Championship was concluded on Wednesday 5th July on a warm and sunny evening in ideal conditions.
The adult group had eight riders – one lady, one junior, two seniors and four vets.
Nathan Blackmore won the opening 4 lap Pursuit from Keith Stockwell and Ben Smith. Nathan also won the Devil with Ben Smith second and Matt Davey third.
The one lap sprint was split into two heats – Heat 2 – Andy Skeen, Leslie Courtney and Andrew Brown who finished in that order for 6,7,8 points/places.
Heat 1 was another win for Nathan from Matt Davey, Steve Hayward, Keith Stockwell and Ben Smith.
As they lined up for the closing 10 lap scratch the Championship positions were – Seniors – Ben Smith 10 pts Matt Davey 11pts, Vets- Keith Stockwell 11pts, Steve Hayward 12 pts – so it all depended on the final finishing order for the Club Trophies.
Nathan won (Top Junior), Matt Davey 2nd (and best Senior), Steve Hayward 3rd, Keith 4th (tied on points) – the tie-breaker meant Steve was top Vet as he had the higher position in the final race.
Leslie Courtney was top lady rider.
Under 16 group
Only four riders – Oli Stockwell won the 2 lap time trial, devil and sprint with Archie Peet second, Jamie Dene third ad Freya Butler 4th. The 6 lap scratch race produced a dramatic result. Oli, Archie and Jamie went into the final lap when Oli unfortunately punctured and was overtaken by Freya Butler to the finish line.This meant that both Archie and Oli tied on 7 pts each – the tie break going to Archie on the result of the last race.
Final results are posted in the bike store.
Thanks to the helpers who acted as time keepers, holders, judges etc
Peter