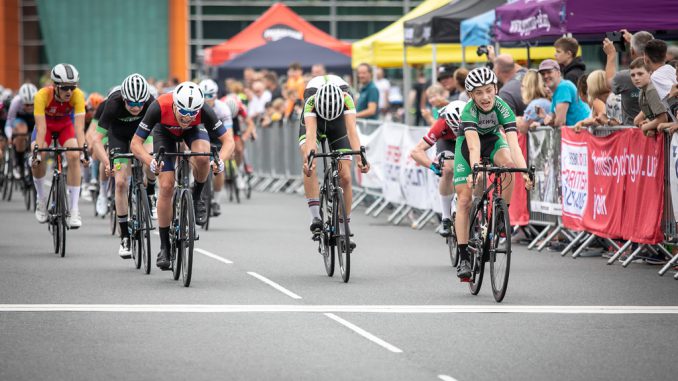 The Bank Holiday weekend's North West Youth Tour was the penultimate round of the 2019 HSBC British Cycling National Youth Circuit Series and the Wheelers came away with top 10 overall places for Ella Coleman (5th) and Ellen Bennett (8th), and a win for Joe Kiely in the final stage on a tight criterium circuit around the campus of Lancaster University.
The opening windy prologue along Morecambe Promenade was extended for this year, to 3.5km, which largely suited the Welwyn riders, who rode strongly through the tour. In the Youth A Boys Joe finished the stage in 12th with Euan Woodliffe and Nathan Hardy both just outside the top 20.
Stage 2 again featured a long strength-sapping climb, tackled 10 times, with pitches of 12 %. Nathan and Joe finished in the front group, ending 16th and 20th on the stage. Euan finished 36th. Luck was not on their side however, as Joe was docked 30 seconds for an incident and Nathan was involved in a slight spill in the final run-in. Stage 3 was a flat, flowing crit course situated on Lancaster University Campus. After an attack filled race, Joe took the win in the bunch sprint, and Nathan preserved his GC position of 18th overall.
The Youth A girls duet of Ella and Ellen both had great races with the best overall performances of the squad finishing 8th and 12th in the prologue, 4th and 5th on stage 2 (within a minute of the lead), Ellen finishing 4th in the final stage bunch gallop, and Ella gaining points in many of the sprint laps.
In the Youth B category Calum Moir continued his consistent form starting with 17th place in the prologue and progressing to 15th in stage 2 and 8th in stage 3 to finish 11th overall. In the girls category the race was blown apart on stage 2 and Millie Coleman finished 20th overall.
Finally, Fin Woodliffe finished in a fine 15th place on stages 1 and 2 in a competitive Youth C field. Unfortunately the Woodliffe family were unable to stay for stage 3.