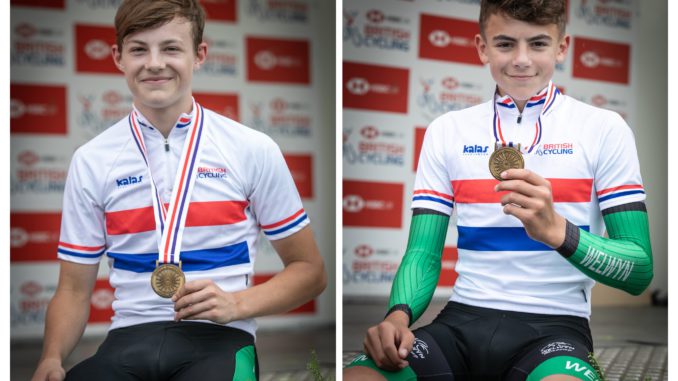 In an amazing day of racing at the British Cycling National Youth Circuit Championships, brilliantly hosted by Lee Valley Youth CC at the Hog Hill circuit, Henry Hobbs and Calum Moir led a clean sweep of Welwyn Wheelers victories in the boys category races.
The U14 boys race started proceedings in drizzle conditions that encouraged numerous punctures throughout the day. Despite several attacks, nobody was able to gap the thinning bunch and the final bunch gallop became an inevitable sprint between the two race favourites: Henry and Rory Gravelle, winner at the Scarborough circuit the previous week. In a tight finish Henry edged-it by just half a wheel length with the pair congratulating each other in a lovely gesture as they eased up. Rupert Cavill followed-up with a fine 26th place.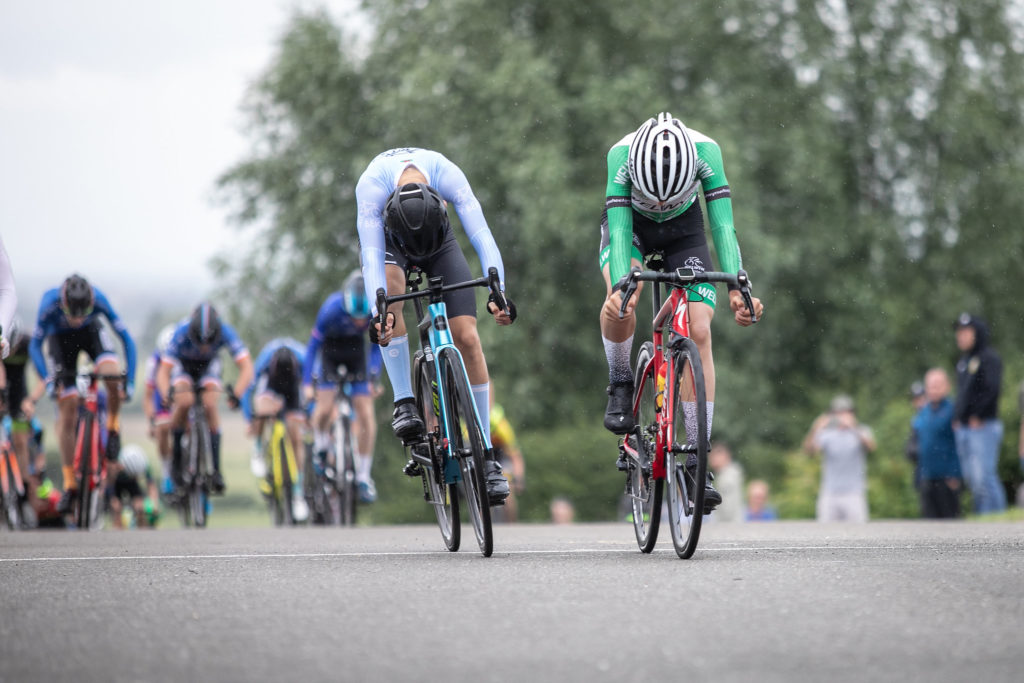 A full field set up a thrilling U16 boys race with multiple attacks and solo-breaks, mechanicals and punctures to keep everyone busy. Sam Gilbert was one of nearly half the field whose race ended early and Calum had the worst possible start with a puncture on the first lap and another later on during the race. Despite having to chase back on twice (almost unheard of in a Youth race) Calum was still able to get back to the front to chase down breaks with Ethan Storti until Mark Lightfoot launched a brave solo attack gapping the field with just two laps to go. In a nail-biting finish Mark was still away on the final lap but could not escape the clutches of the thundering peloton. Calum timed his winning sprint perfectly with a second burst just before the line in a Cavendish-like move to achieve an amazing and unforgettable win – his first ever National win, on his local circuit, closely followed by Robin Steer in 8th place.
Well done to our winners and all the Welwyn boys who gave this race everything, you have made a lot of people very proud!
Calum victory photos thanks to Tony Twist @tt_photography70
U14 Boys
1st Henry Hobbs
26th Rupert Cavill
U16 Boys
1st Calum Moir
8th Robin Steer
27th Ethan Storti
31st Mark Lightfoot
71st Sam Gilbert