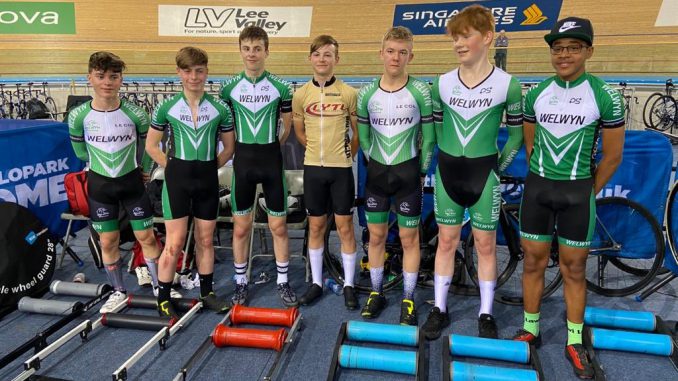 The London Youth Track League, run over 10 events during the winter at the Olympic velodrome, concluded on Thursday with Calum Moir wearing the coveted gold jersey in the Group 2 category – his 14 victories winning the league by some distance. Mark Lightfoot's win in the scratch race and 3rd in the points race at the final round were enough to secure bronze position and some flowers to take home. Ethan Storti, Sam Quiggin, Dylan Starkey, Bradley Taylor, Sam Gilbert have also all been regulars in Group 2 at the league this season and were somehow herded together for this photo.
Iona Moir, Caitlin Loveless and Millie Coleman competed in the Girls Group. Iona won all 4 events in round 10 but this was not quite enough to knock Jody Taylor off overall top spot.
In Group 1 Nathan Hardy and Euan Woodliffe finished 5th and 6th respectively. Fin Woodliffe, Leon Atkins, Elise Whitaker and Rupert Cavill all made appearances in the rising stars Group 3, Fin finishing in 4th place overall.
Our thanks to Nigel Hampton and team for their continued organisation of this excellent track series.