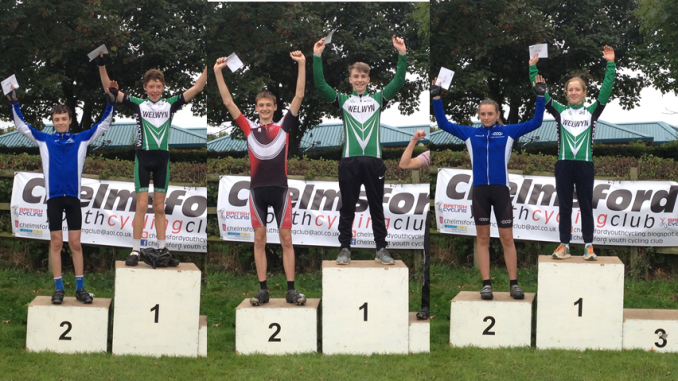 A busy weekend for Welwyn Wheelers officials and riders – here are the results
Welwyn Wheelers riders and Officials were in action in a very busy weekends cycling activities
On Saturday the club hosted the Cycling Time Trials GHS Final at Wodson Park, Ware over a 10 mile course on the A10. Almost 200 riders had qualified for the final via heats run over the whole country and this included nine Wheelers youth riders. The first rider was due to start at 9-01 but the start had to be delayed by over 2 hours due to a lorry breakdown on a critical position on the course.
Best of the Wheelers riders was Michael Parry in 22-15 for 22nd place followed by Will Raymond in 22-33 for 28th place. The Wheelers trio of Michael Parry,Will Raymond and Toby Miles broke the Wheelers Youth team record with 1-08-57 by around 4 minutes which was set in 2002 by Andy Fenn, Peter Bissell and Ed Checkley.
On Sunday a large number of Wheelers riders rode Round 2 of the East Region Cyclo-cross League at Chelmsford and the Wheelers dominated the Youth race in fine style – Will Raymond  made an excellent start  and led the field of 50 riders in lap one and was never headed winning the race by almost a minute. Tom Durkin was 4th, Sam Asker 6th, Ollie Stockwell 7th (top under 14 rider), Nathan Blackmore 10th, Joe Kiely 12th, Tom Martin 14th, Elspeth Grace 15th (first girl), Tom Sharples 18th and Michael Sumnner 35th
In the age 40-49 age band with a full field of 80 riders – Keith Stockwell recovered from a bad start to finish 18th, Alex Peeke 35th and Garry Blackmore 60th
The Junior and Senior event of 60 riders saw Cai Davies good form to finish in 10th pace (second Junior) with Michael Parry 13th and 4th junior
In the over 50's race Dave Martin 53rd, John Sumner 61st
The Cyclo-cross event had a total entry of just over 300 riders
The pics are from the youth cyclo- cross race – 1 Under 14 (Ollie Stockwell), 2 Girls (Elspeth Grace) 3 Under 16 boys (Will Raymond)