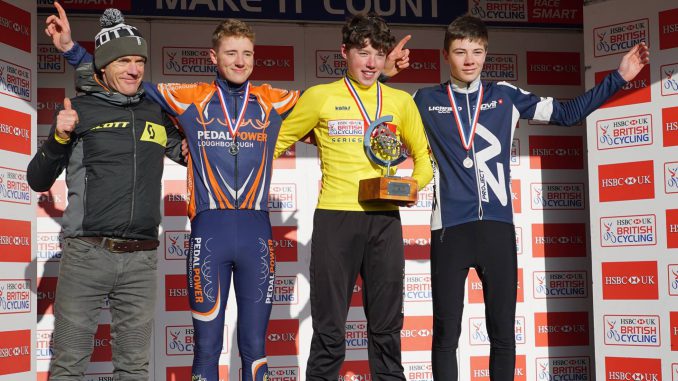 The final round of the British Cycling Cyclocross series was held at Trinity Park Ipswich on Sunday. Two Wheelers youth riders – Oli Stockwell and Euan Woodliffe both needed to get a good result to stay in contention for a top three position in the six event series.
Oli Stockwell was in the leaders yellow jersey as they lined up at the start on the front row of the 60 strong field of under 16 riders. Midway through lap one he was in the leading group of six riders. The race was run at a fast pace on a course which included a number of road sections plus some tricky technical sections to test the bike handing of the field of top class riders.
The leading group soon reduced to three with Oli and his main rival Alec Gregory leading the trio and upping the pace throughout the race. As they came onto the finishing straight it was down to a a flat out sprint for the line with only inches separating Oli, Alec and Simon Willey. Oli raised his hand for the win but it was too close to call. It came down to to the prize presentation before they knew the final results. When the announcer read the name of Alec Gregory in second place we knew that Oli had won the race and the under 16 series and he was presented with the Charlie Craig Memorial Trophy for a great performance. If you look at the picture of the finish you can see how close it was with Oli winning margin only a couple of inches.
In the under 14 race Euan Woodliffe and Caelen Miller were in the leading group of six riders for the whole of the 5 lap race – all watching each other and stopping any breakaway moves. Once again it all came down to the final part of the final lap as the six were still together – Eaun and Caellan had a plan which they put into effect for the last few corners before the finish – they made sure that they led the group into the last section and this enabled them to take the lead on the final bend and lead into the finishing straight to take first and second places. The win for Euan moved him up to second place overall in the series. Caelan had his best result of the series with a positive ride and strong support for Euan
A great days racing for the club youth riders with two well earned victories plus a series win for Oli in the under 16 series and second place for Euan in the under 14 series.
This coming weekend they are all off to Durham for the BC National cyclo-cross Championships.
Peter