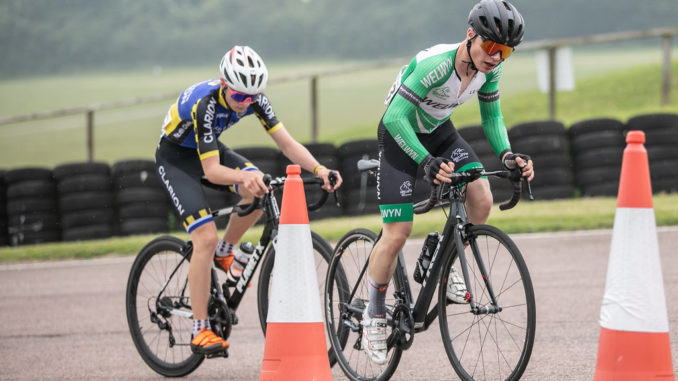 VC Londres hosted another outstanding 2 day, 3 stage race series with the Deux Jours de Kent this weekend – part of the British Cycling National Youth Circuit Series. The stages were held at Cylopark and the Lydden Hill motor racing circuit near Dover with Lydden Hill providing a good test with a 12% hill to climb on each lap of a shortish loop.
Henry Hobbs again delivered an unstoppable performance winning the green jersey and leading GC on day one, followed by winning the stage on day two to win the U14 boys category outright. In the U16 boys Calum Moir missed out on a podium spot after a lone breakaway mopped up the winning time bonus and overtook him on GC on day two.
With some competing in their first National race, over 2.5 hours of racing was great experience. Leon was understandably gutted to puncture on the last lap after riding 21 times up Lydden Hill!
U14 Boys
1st – 2:14:19.96 – Henry Hobbs
19th – 2:15:50.11 – Leon Atkins
U16 Girls
30th – 2:32:30.60 – Ellen Phillips
U16 Boys
4th – 2:35:49.39 – Calum Moir
13th – 2:36:03.39 – Mark Lightfoot
34th – 2:36:11.75 – Ethan Storti
46th – 2:38:02.00 – Robin Steer
66th – 2:52:51.55 – Sam Gilbert