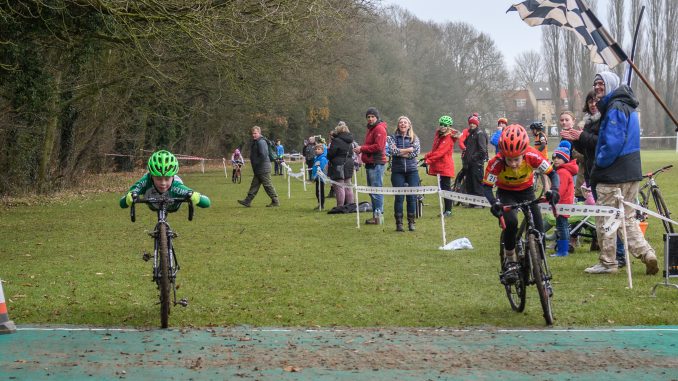 A few club riders travelled to Rockingham for the final race of the Central League series and had a great days racing on a  great course with lots of technical bits through the woods.
The day started with the U10s and U8s.   Xavier Knott had a great start, they faced probably one of the most technical courses so far, with a steep decent down through the woods and a tough slippy push up a bank.  Alistair Davis 6th U8, Xavier Knott 6th U10 (5th Overall in the League), Josephine Davis 6th U10 Girl.  Although not racing today, Henry Landon has secured 2nd overall in the U10s Central League.
Fin Woodliffe was on good form and set off at a blistering pace, leading the race from the start and continually putting in attacks. He finished in 1st place 25 seconds ahead of 2nd place and 40 seconds ahead of Rupert Cavill in 3rd place.  It was a technically tricky course compared to some of the other rides and the WW training clearly paid off.  Rupert held on in 3rd place throughout the race and worked hard to chase Fin and the rider just in front of him.  Fin flew down the finish straight and unclipped both feet on the line to take on the Pidcock finish pose of belly on the saddle superman style!! Quite amusing but quite justified considering he knew at that point that he had definitely sewn up the U12 series.  Dillon Knott finished in 9th place.  It was a great 1, 2,3 for Welwyn in the Overall League  – Fin, Rupert and Dillon – great results considering they are 1st years.
Euan was feeling less on form having ridden 80K with Tom and Joe Bennett the previous day, but knew all he needed was a top 10 finish to secure the overall central league win.  So happy to roll round.  He led the race for quite some time.  An U16 ran into the tape in front of him, the tape snapped and it drifted into Euan's bike, wrapping itself neatly round his rear mech and cassette, meaning it was  a run to the pits for his back up bike! A 2nd place for Euan today, but more than happy with that as it was enough to secure the overall central league U14 win.  So a great days racing in the Woodliffe camp and proud parents – all of that travelling was worth it!
U16 Charlie Rollins was 6th ( 3rd Overall in the League), John Cavill 24th and Neil Grigson 53rd  Tony Marriott 22nd (although not riding for Welwyn Wheeler.
On Saturday 23rd a large group of around 40 riders, many in fancy dress, turned up at GSP for the club Christmas road and off road ride. All eventually arrived at Hatfield Cycles via various routes for some well earned refreshment and  a pre- Christmas chat.
On Thursday a large number of club riders entered the Youth Open meeting at the Olympic track at Stratford – Oli Stockwell won the under 16 Omnium and Tom Sharples won the under 14 event.