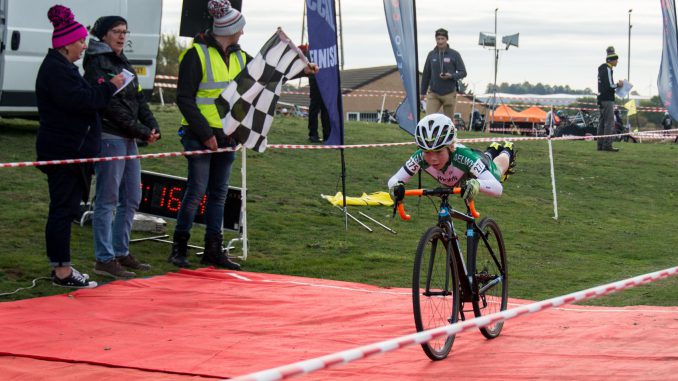 The Welwyn Wheelers riders dominated the cyclo-cross on Sunday at Kettering for Round 3 of the Central League, winning 6 of the 12 races on the day.
Rupert Cavill won the under 12 race followed home by Dillon Knott 3rd, Fin Woodliffe 9th, who had a mechanical problem. Elise Whittaker was 2nd girl. Calum Moir won the under 14 race with Cormac Nisbet 5th and Thomas Dixon 9th while Millie Coleman won the under 14 girls race with Beth Bennett in 5th spot. Josephine (U10) and Alastair Davis (U8) were the only Wheelers in the younger age groups, finishing 9th and 6th in their respective categories
In the under 16 category Euan Woodliffe took first place racing with George Gould and Toby Brown while Ellen Bennett, Iona Moir and Ella Coleman had a 1,2,3 in the girls category with Sasha Blendis close behind in 6th. Later on Archie Peet won the Junior Men's category with Jamie Dene 4th, Rizwan Hammed 7th and Charles Rollins 9th. Freya Butler was 2nd Junior Girl, finishing 30th in the overall Womens category.
In the senior events John Cavill was 26th in the 86 strong field in the 40-49 age band while Garry Blackmore was 42nd in the 50+ event out of 77 riders.
Also on Sunday a number of Wheelers travelled to Colchester for the Eastern League VC Revolution Hilly Fields Cross event – Oli Stockwell was just pipped for first place in the Senior race in a sprint finish losing out to senior James Madgwick by 2 seconds over a minute ahead of the next rider – Oli was top Junior rider with Adam Lightfoot in 9th place and Joe Bennett 18th.
Mark Lightfoot was 8th overall in the youth race with Calean Miller 12th in his first come-back race since recovering from injury. Dylan Starkey finished 24th and Michael Sumner 35th in a large field of 56. This left Mark as the 1st U14 and Dylan 6th U14. In the U12s Megan Hughes finished as 5th girl with Jacob Lowin as 17th boy. Daniel Elliot was 6th overall in the under 10 category.
Malcolm Starkey was the sole Welwyn veteran finishing mid-way in the V40s race on the same lap as the winner, to his credit.
This weekend the top Wheelers riders will be at Derby for Round 1 of the British Cycling Cyclo-cross series. On Sunday 14th October the Wheelers are hosts for the Eastern League race at Stanborough Park (south) – first races is at 10:00am and a strong entry of over 300 riders is expected.