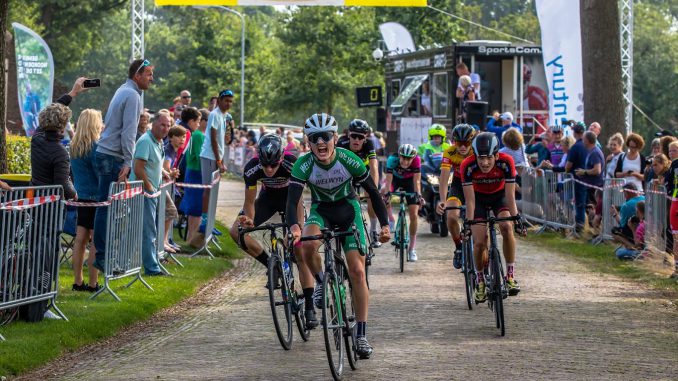 A squad of 18 Welwyn Wheelers Youth and Junior riders travelled to The Netherlands to compete in the 55th edition of the European Junior Cycling Tour – Assen last week. This is a prestigious international stage race held over 6 days, with entrants from 25 countries including numerous National champions and National squad members.
The race format was identical to the previous year's albeit with a revised Klassieker route that featured the same 3km stretch of cobbles for the older riders and then a picturesque route north through the village of Loon for the riders to be battered by fierce cross-winds.
Phil warming up the Cat 5s

Leon

Millie

Katie

Iona

Calum in the TT

Junior Omloop podium

Ellen

Fin and Lucy

Rupert

Leon white jersey podium

Scott and Leon
Highlights included: A memorable road stage win for Archie Peet who won the penultimate 'Omloop' stage in the Junior (Under 19) category – raced over 5 laps of a 12km partially cobbled circuit by over 110 riders. Archie bridged to a lone breakaway rider with 20km to go to form a group of 6 that built up a lead of 30 seconds, which was reduced down to 8 seconds at the very exciting finish. This is a great result for Archie, who was in significant breaks in 3 stages during the week.
A stage win for 10 year old Leon Atkins (category 4) in the time trial and 2nd on General Classification (GC) despite crashing badly in a leading position in closing moments of the 'Klassieker' stage. Leon is an emerging time trial specialist who also came 2nd in the prologue and finished 2nd on General Classification (GC).
There were four top ten stage finishes for Calum Moir (cat 7), who secured 2nd place in the Green (sprint) jersey competition on the last stage by winning 4 sprint laps.
Ethan Storti just missed the podium with 4th place on GC with four top ten finishes and 10th place overall for Sam Quiggin (two top tens) in Cat 6. Both boys raced comfortably at this level and got stronger throughout the week, riding frequently at the head of the race.
Dan Phillips finished 8th overall in cat 5, who was never out of the top 20 with four top ten finishes.
Milly Coleman came 3rd overall in the pink jersey competition (for girls) in category 5.
Euan Woodliffe (NWL1/Under 16) was our most consistently high placed stage finisher. He had three top ten stage finishes and his lowest finish of the entire week was just 14th.
Ella Coleman (Under 17 girls) had an excellent 5th place in the time trial to secure an overall finish of 10th on GC.
All competitors gave it their all during a tough week, which had its fair share of mishaps including Nathan Hardy having to retire with an injured wrist after a crash in the Klassieker.
Full details of all the Welwyn riders' results each day can be found here.
Finally, a big thank you to Jamie, Gavin, Phil and Scott who looked after the riders so well and ensured that we were sufficiently organised to again grab the prime gazebo spots each day! Our thanks and gratitude again go out to the organisers of this amazing event – we shall return in 2020!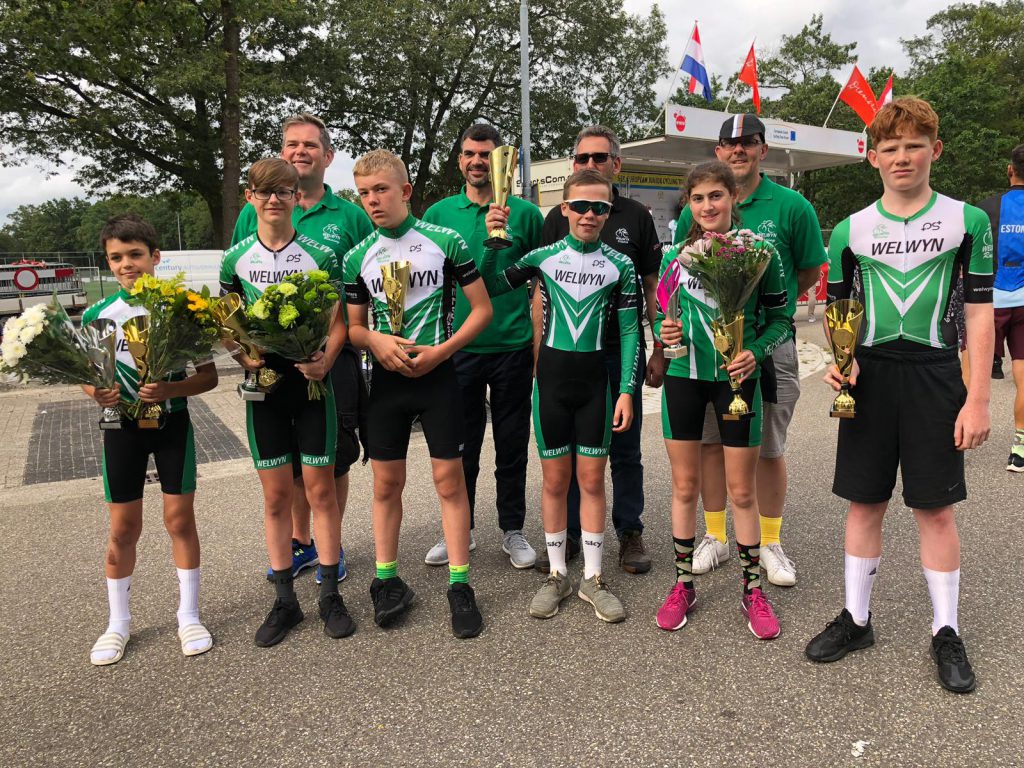 ---