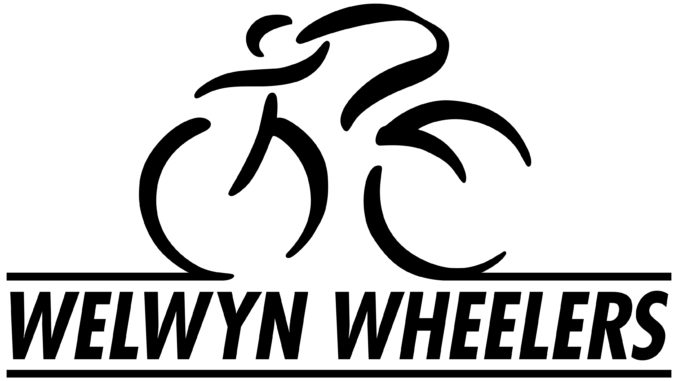 Welwyn Track League Results 6th May 2016
Riders and spectators alike enjoyed a warm evening of competitive racing at Welwyn's Gosling Stadium, last Friday, in stark contrast to the week before when most needed a thermal vest to survive! There were 27 Senior and 20 Youth racing.
In the Senior A Group, eighteen riders started the opening ten lap scratch which after a couple of sedate laps got up to a cracking pace; the bunch held together until the end with John McClelland leading out, but was easily out-sprinted by Frank Longstaff to take first place and Kristian Woolf to take second.
The block pursuit made a welcome return to the programme, however twelve laps proved a little too long for most for such a full-on event.  For just about the whole race the "odds" team led the "evens" by a small margin, and with five laps to go, both sides were down to three riders each with the "odds" team of Longstaff, McClelland and Josh Roberts beating the "evens" team of Woolf, Mike Broadwith and Cameron Gutteridge by about 40 metres.
The third event for the As was the ever popular "devil", with one out a lap until four remaining, those four being, Longstaff, McClelland, Woolf and Michael Parry finishing in that order, in a sprint recorded at hitting 42mph!
The final race of the evening was the traditional 10 mile scratch where the B group riders joined the As.  This was noticeably faster than the week before, and although no break was established, about half of the riders did not survive the many surges of pace during the race.  Longstaff led out at the bell with McClelland glued to his wheel, Kristian Woolf putting in a brave attempt to get around Longstaff at 200 metres to go, but this was to no avail with Longstaff kicking again and dragging McClelland and Joel Stewart into second and third places respectively.  Time for the 35 laps was 21 minutes.
So an impressive clean sweep of wins for Frank Longstaff who will be very hard to beat this season.
Senior A
10 lap Scratch – Frank Longstaff Team Terminator, John McClelland Bush Healthcare CRT, Kristian Woolf Bush Healthcare CRT, Josh Roberts Zappis RT
12 Lap Block pursuit – Frank Longstaff Team Terminator, John McClelland Bush Healthcare CRT, Josh Roberts Zappis RT
Devil – Frank Longstaff Team Terminator, John McClelland Bush Healthcare CRT, Kristian Woolf Bush Healthcare CRT, Michael Parry Welwyn Wheelers
10 Mile Scratch – Frank Longstaff Team Terminator, John McClelland Bush Healthcare CRT, Joel Stewart Kenton CC, Kristian Woolf Bush Healthcare CRT
Senior B
10 lap scratch – George Farrell Endeavour, Michael Skipsey Tring Hobbon, Tom Zittel Willesden Cycling Club, Tim Ducket CC Ashwell
10 Lap Block Pursuit – Michael Skipsey Tring Hobbon, Conor Woodford Willesdon CC, Ian Hayter Welwyn Wheelers, Rod Kelson North Road CC
Devil – Tom Zittel Willesden Cycling Club, Conor Woodford Willesden CC, Ian Hayter Welwyn Wheelers, Julio Davis Welwyn Wheelers
Youth A
8 Lap Scratch – Nathan Blackmore Welwyn Wheelers, Oliver Stockwell Welwyn Wheelers, Gwilym Park Welwyn Wheelers
8 Lap Points – Nathan Blackmore Welwyn Wheelers, Oliver Stockwell Welwyn Wheelers, Gwilym Park Welwyn Wheelers
Devil – Nathan Blackmore Welwyn Wheelers, Gwilym Park Welwyn Wheelers, Oliver Stockwell Welwyn Wheelers
7 Lap Handicap – Oliver Stockwell Welwyn Wheelers, Nathan Blackmore Welwyn Wheelers, Gwilym Park Welwyn Wheelers, Joe Bennett Welwyn Wheelers
Youth B
6 Lap Scratch – Oisin Murphy Hillingdon, Jenna Miles Welwyn Wheelers, Abby Old Hillingdon
6 Lap Block Pursuit – Joe Kiely Welwyn Wheelers, Oisin Murphy Hiliingdon, Abby Old Hillingdon
Devil – Joe Kiely Welwyn Wheelers, Conrad Holland WelwynWheelers, Oisin Murphy HSS
Youth CDE
3 lap Scratch – Jodie Taylor Colchester Rovers, Dylan Starkey Welwyn Wheelers, Jack Emerson Colchester Rovers
4 Lap Points – Jodie Taylor Colchester Rovers, Dylan Starkey Welwyn Wheelers, Mark Lightfoot CC Ashwell
0.5 Lap Dash – Jodie Taylor Colchester Rovers, Jack Emerson Colchester Rovers, Dylan Starkey Welwyn Wheelers
4 Lap Handicap – Dylan Starkey Welwyn Wheelers, Thomas Dixon Welwyn Wheelers, Rupert Cavill Welwyn Wheelers, Jack Emerson Colchester Rovers