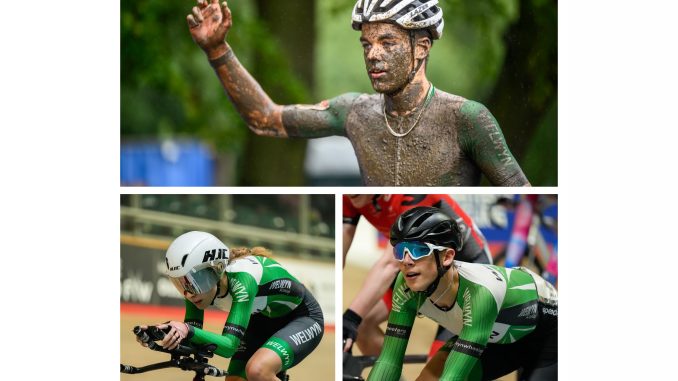 A busy period of road, track and MTB national championships in recent weeks has produced a bucket of great results, medals and striped champion's jerseys for the club's talented youth racers which has been hard to keep up with.
Starting with Henry Hobbs becoming U16 men's National Circuit Race Champion, successive weekends saw Henry becoming Youth Omnium Champion and winning gold medals in the Scratch, 2km Pursuit, and Madison (partnered with Dylan Sage) at the recent National Track Championships in Newport. His Pursuit time of 2.12.369 set a new national record in the process.
In the women's youth category Ellie Mitchinson achieved a bronze medal in the Sprint, coming 9th in the Omnium with Esmee Bone also finishing 9th in the U14 category. Elijah Storti, Asher and Iris Gray also placed well in the Youth B category.
Finally, Leon Atkins added two more striped jerseys to his growing collection winning in both the XCC and XCO races British Cycling National Cross Country MTB Championships. Daniel Elliott finished 17th in the Juvenile XCC race. Well done everyone, the club is very proud of you all!